"

... a collection of popular songs from the '30s and '40s now referred to as the [Great] American Songbook. This treasured material has Amanda's name written all over it. Her tone is rich and sexy, her phrasing is smooth, the delivery balances carefree passion with subtle humor. Amanda King is the right girl for the very best in American songwriting. "
— Seán Martinfield, San Francisco Sentinel
Swinging music and wonderful history of Ella Fitzgerald's early life!
$35 and $45 tickets
(EDT, UTC-04) (EDT, UTC-04)
Sharing the magic and music of Ella's early life and career with the fine folks of Toms River, NJ.
Tickets on sale soon.
With the sound and soul of a classic chanteuse, it's no surprise that Amanda King showcases a catalog of music gems from the 1930s, 40s, and 50s embodying many of the figures who make up the vivid tapestry that is American Popular Music and Jazz. Possessing a smoothness of voice and surety of style, she has been hailed by New York Times critic Stephen Holden as one of the nightclub world's "exceptional rising talents." Combining the best of the jazz and cabaret worlds by focusing on the words, the music, and the swing, Amanda masterfully interprets the music she adores and performs.
How It All Began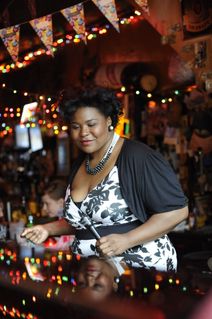 As one of the youngest apprentices at the Actors Theatre of Louisville, the professionally trained and experienced actor segued into a career as a singer a few years after moving to San Francisco in 2000. On a lark, Amanda entered the Bay Area Cabaret Competition and became a 2nd place finalist, which led to appearances in showcases throughout the region, developing a devoted following along the way.
Amanda's fan base grew substantially after her acclaimed one-woman show "It's About Damn Time!" which ran at San Francisco's New Conservatory Theater Center. The success of that show brought more opportunity, and the appreciation from audiences and musicians alike emboldened her to mount a show entitled "Chanteuse", which was met with great acclaim and solidified her reputation as a solo performer of note. That show became the basis for her CD "Chanteuse", recorded in 2008 at the famous Fantasy Studios in Berkeley, California, featuring her regular trio of well-known Bay Area jazz artists, Shota Osabe, Jeff Neighbor, and Surya Nur Patri.
A devoted fan of classic movie musicals, Amanda relishes diving into history to share the stories, songs and people that make up the treasure trove of pre-1950s American Popular Music.
Oh, The Places She'll Go and The Things She'll Do
 - Is a regular performer in the Piazza Lounge at Tuscany Suites & Casino, The Mob Museum, and The Dispensary Lounge, all in Las Vega
- In December 2018, released her holiday EP "It's Christmas! with Amanda King" co-produced by Barry Manilow's musical director Joey Melotti, and featuring some of Las Vegas's finest musicians.
- Debuted her highly successful show "A Salute to Ella: The Early Years" which features the history of young Ella Fitzgerald through her brilliant time with the Chick Webb Orchestra.
- Opened the Bay Area Cabaret 2017-18 season with "Ella Fitzgerald: A Centennial Celebration" alongside Lillias White, Janis Siegal, Freda Payne, and Sony Holland in the world-famous Venetian Room at the Fairmont Hotel in San Francisco. Also part of Bay Area Cabaret's "Cabaret Spectacular" alongside the magnificent Amanda McBroom and others.
- A featured performer with The Cole Porter Society from 2014 through today. Appearances include "The Music of Nat and Ella" featuring Noah Griffin, Dr. Margie Baker, and Amanda in celebration of Nat King Cole's centenary. "Centi Anni: Sinatra at 100" a standing room only evening featuring a 17-piece orchestra at Herbst Theater. She also was a lead in "Les Revues des Ambassadeurs", Cole Porter's long-lost night club revue from his time in Paris in 1928 that was rediscovered in 2014 and hadn't been performed in 86 years.
- Created two full-length lecture-performances that debuted as part of the SFJazz Discover Jazz Series. "Forgotten Women, Lost Songs" celebrates the lives of musical pioneers Blanche Calloway and Valaida Snow, and "The Melting Pot: Blacks, Jews and Jazz", is a musical exploration of the evolution of jazz via contributions from black and Jewish culture. Both lectures received rave reviews from attendees.
- Garnered critical acclaim as the title character Queenie in the Oakland Opera Theater's rendition of Duke Ellington's incomplete and rarely performed jazz opera, "Queenie Pie".
-2010 & 2011 performed in the New York Cabaret Convention presented by The Mabel Mercer Foundation at Lincoln Center's Rose Theater.
- Featured soloist in a Pops concert of Gershwin tunes with the San Francisco Chamber Orchestra at Herbst Theatre.
- Performed with several big bands including: Harold Jones and the Big Bossmen (Marin); The Starduster Orchestra (Mill Valley); Desert Cities Jazz Band (Palm Desert)
-Co-emcee of the 2017 "One Home, Many Hearts" annual gala for Raphael House.
Venues, Festivals and Organizations (not exclusive):
Venues: Feinstein's at the Nikko (SF); The Venetian Room (Fairmont Hotel SF); Tuscany Suites & Casino (Las Vegas); The Mob Museum (Las Vegas); The Orinda Theatre (Orinda); The Four Seasons (SF); Ritz-Carlton (SF); The St. Francis (SF); Palace Hotel (SF); AT&T Park(SF); Herbst Theatre (SF); Rose Hall (JALC, NYC); The Plush Room (SF); The Metropolitan Room (NYC); The Gardenia (LA); The Dispensary Lounge (Las Vegas); El Cortez Casino (Las Vegas); Italian American Club (Las Vegas); Silverton Casino (Las Vegas); Jazz Heritage Center (SF); Firehouse Arts Theatre (Pleasanton); The RRazz Room (SF); St. Francis Yacht Club (SF); Golden Gate Yacht Club (SF); Vicky's of Santa Fe (Indian Wells); Bimbo's (SF); Yoshi's Jazz Lounge (SF); The House of Blues (Las Vegas); Silo's (Napa); The Sound Room (Oakland); The Century Club (SF); Zingari (SF); Angelica's (Redwood City); Marin Civic Center (St. Rafael); Osher Marin JCC (St. Rafael); Kezar Stadium (SF); Cashman Field (Las Vegas); The Battery (SF); Julia Morgan Ballroom (SF); The Chatterbox (Indianapolis); Madame Walker Theater Ballroom (Indianapolis); Temple Sinai (Las Vegas); Geoffrey's Inner Circle (Oakland); The Sequoias (SF); Rossmore (Walnut Creek); Contra Costa Country Club (Pleasant Hill); San Geronimo Country Club (St. Geronimo)
Festivals: Fillmore Jazz Festival (SF); IndyJazz Fest (Indianapolis); North Beach Festival (SF); Castro Street Festival (SF)
Organizations: Mabel Mercer Foundation (NY); The Cole Porter Society; SFJazz (SF); SF Giants (baseball); SF Deltas (soccer); Las Vegas 51 (baseball); Sonoma Valley Jazz Society, Napa Valley Jazz Society; Raphael House (SF); People in Plazas (SF); San Francisco Chamber Orchestra (SF); Young Presidents (SF); National Council for Jewish Women (Rossmore); American Jazz Institute (Palm Desert); Richmond-Ermet AIDS Foundation (SF); Cathedral School for Boys (SF); SF Men & Boys Chorus (SF); Contra Costa Interfaith Housing (Walnut Creek)
- Amanda has shared the stage/performed with a slew of great musicians, including: Amanda McBroom, Lillias White, Janis Siegal, Freda Payne, Taylor Eigsti, Peter Erskine, Paula West, Harold Jones, Marilyn Maye, Dr. Margie Baker, Noah Griffin, Mike Greensill, Akira Tana, Larry Dunlap, Zowie Bowie, Dennis Bono, Jeff Neighbor, Marcus Shelby, Shota Osabe, Jonathan Karrant, Mary Wilson, Jonathan Poretz, Nicholas King, Chadwick Johnson, and many other greats.